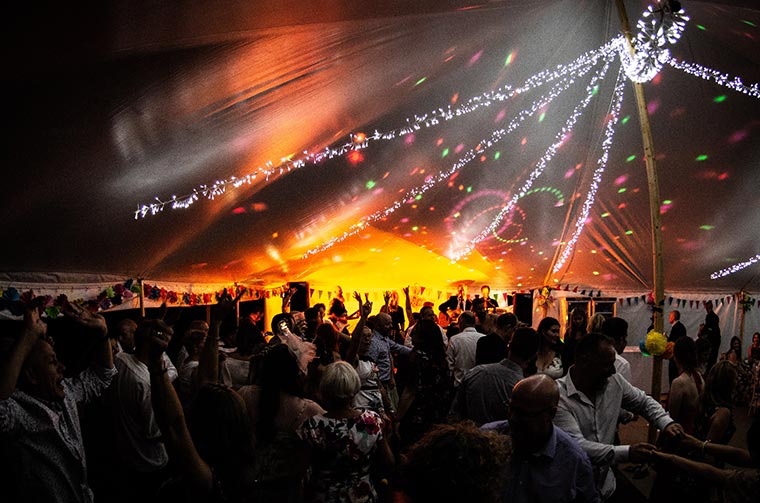 We provide a range of marquee hire options for every occasion. Wherever you are in Ireland, we offer a bespoke service that includes everything you need to ensure your event is a resounding success for everyone involved.
Whether you're seeking a traditional pole marquee or a custom layout, our wedding marquee hire service includes a range of remarkable structures that ensure your wedding exceeds expectations. Accompanied by our lighting, dance floors, heating and luxury toilet facilities, you can ensure a comfortable, memorable event for everyone involved.
If you're planning an outdoor event, we have the expertise and equipment to leave a strong impression on your attendees. We have a full range of offerings suitable for any budget. Using our in-house printing facilities, you can also have branded marquees designed and digitally printed to promote your product or service.
Warehousing Marquees
Temporary warehousing can be critical at times when you're undergoing structural renovations or in need of expansion. Our rapidly constructed spaces can function as storage and as alternative venues for showrooms and other purposes. With additional add-ons, these can be made comfortable and functional for interactions with clients and customers.
Festival Marquees
If you require a festival marquee hire anywhere in Ireland, we provide a top tier service with the highest quality structures to ensure you can meet deadlines. Our designs can withstand the worst weather. We offer our experience in festival and commercial events and can provide advice to help you with your layout, planning and construction.
Simplified planning for COVID restrictions
COVID-19 has significantly impacted how we meet and interact. We provide a range of COVID marquee solutions to help support your business or event while maintaining compliance with requirements. For example, if you need additional canteen space, larger working areas or storage. We also help businesses and organisations provide outdoor seating, queuing areas, testing centres, and increased lunch areas at schools.
Marquee Accessories
When you're planning an outdoor event, toilets, dance floors, heating, and lighting are all considerations that we help make easy. With top-quality facilities and extras, you can ensure every facet of your event runs smoothly.
If you have a requirement not mentioned here, we can probably still help. We're always happy to give advice and recommendations, Contact us today for more information.