Leisure Domes
Crossovers - Provide A Professional Presence To Any Event
The CROSSOVER is a revolutionary design from top to bottom of the standard marquee and it sets us apart from every other marquee hire company in Ireland. It is our most desired and recognisable structure because it gets people talking. The CROSSOVER comes in two different sizes and is comprised of a square base with a stunning dome top.
Need more space? CROSSOVER Ms can be combined with each other or with the HEXADOME to create vast undercover areas suitable for all manner of events and requirements.
In-built rigging points allow this very solid structure to take up to 400kg of suspended weight. After building, the structure is anchored and the cover is installed. If desired the side walls can be mounted.
Please contact us for further information.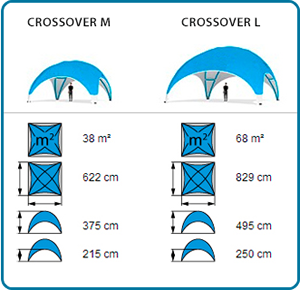 Leisure Domes

Contact Us About Crossover Hire
Fill in your details below to request a call back about Crossover Hire.
Contact Us Today