Leisure Domes
Hexadomes - Big, Bold & Versatile
The HEXADOME is the largest dome in the range. With its unique shape and a space of 100m², the HEXADOME can be used for many kinds of events where you want to generate attention. It is truly one of a kind. The HEXADOME has a six-sided hexagonal base and a beautifully domed top. It is big, bold and magnificent with a grand ceiling height of almost 5.5 mts.
Need more space? HEXADOMES can be combined with each other or with the CROSSOVER M to create vast undercover areas suitable for all manner of events and requirements.
In-built rigging points allow this very solid structure to take up to 600kg of suspended weight. After building, the structure is anchored and the cover is installed. If desired the side walls can be mounted.
Please contact us for further information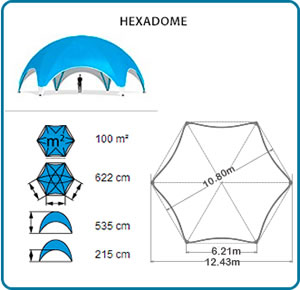 Leisure Domes

Contact Us About Hexadome Hire
Fill in your details below to request a call back about Hexadome Hire.
Contact Us Today