Leisure Domes
Loungers - Stylish & Versatile
The LOUNGER can be set up anywhere – even where there is difficult access. The structure is built out of lightweight high-quality aluminium and available in two convenient sizes. It is not only designed to stand out but also for durability. The LOUNGER structure is like no other.
Permanently installed or quickly erected for occasional use, the LOUNGER will enhance any event, pop-up display, information booth, exhibition stand, catering marquee, brand activation setup or even your home as a temporary or permanent carport, patio or cover over a spa, providing you with waterproof, sun and weather shelter all year round to entertain or just relax under.
After building, the structure is anchored and the cover is installed. If desired the side walls can be mounted.
LOUNGERS come in 2 versions, M and L, and can be combined with other LOUNGERS.
Please contact us for further information.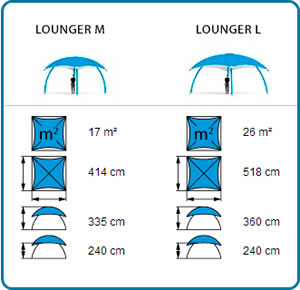 Leisure Domes

Contact Us About Lounger Hire
Fill in your details below to request a call back about Lounger Hire.
Contact Us Today