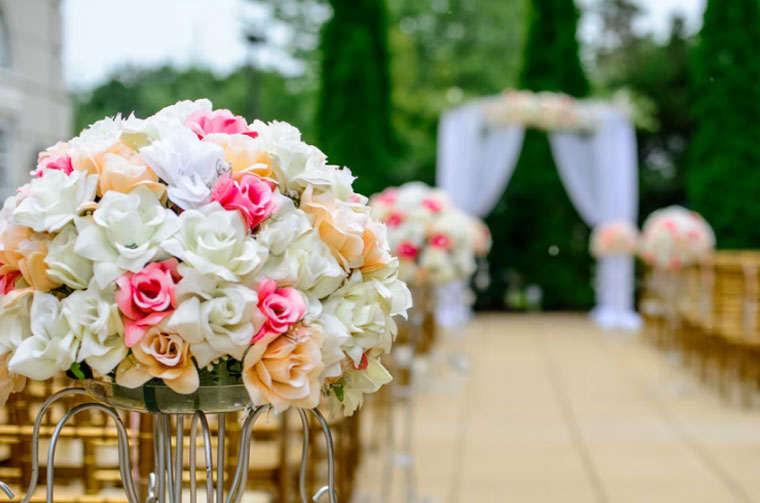 One of the big advantages of using a marquee for your wedding is that you have the opportunity to make your interior space unique. As such, we don't believe in providing 'packages'. Instead, our wedding marquee hire packages are mainly dependent on the layout you wish to use for your event since this will decide what kind of coverage you'll require. When you have an idea of what you'd like you can contact us and we'll prepare some pricing and recommendations so you can decide what's best for your needs.
How many guests will attend?
The package will depend on your layout. And naturally, your layout is dependent on the activities and functions you wish to provide for your guests. For example, a small wedding of less than eighty guests may work well with a medium-sized marquee with a function area.  For larger family weddings from 100 to 250 people, you may wish for a larger marquee. However, in either case, your layout may change if you also wish to have a dining area, a bar, or a stage.
Do you plan to have your marquee space standing or seated?
In most weddings, you may be planning to use the marquee with seating. Naturally, this increases the size requirements for each individual guest compared with a standing area for music. You may also wish to furnish the interior, including seating and tables. We provide this as a service if you do not have furnishings on hand or would like us to take care of this according to your wishes.
Deciding on the right wedding marquee hire package
We're happy to provide a free consultation over the phone to help you get an idea of what is possible. If you already have a location in mind we can perform a site survey, also free of charge, to help you assess its suitability. Rest assured that even if the grounds are a little uneven we have the means to ensure the flooring goes as smoothly as the event itself.
If you'd like further clarity for your wedding event, please don't hesitate to reach out on 022 23318. We're always happy to provide advice and quotes over the phone, or you can also fill in our form here. And we're always happy to call out if you need an assessment of your location.