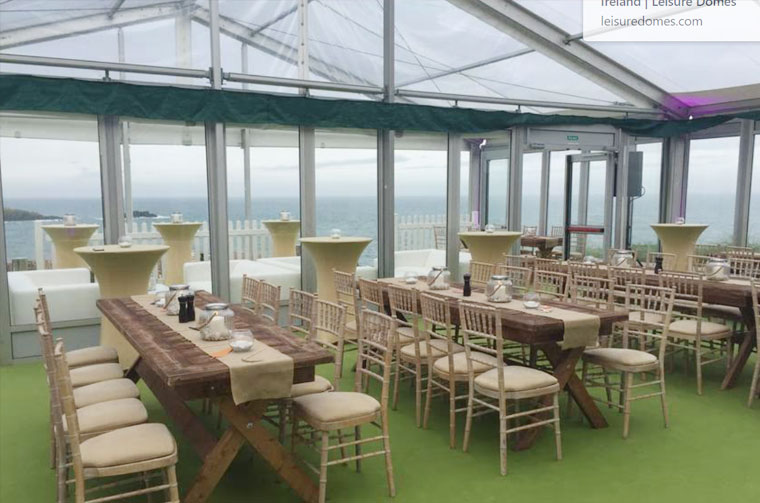 As providers for event marquee hire covering the whole of Ireland for many years, we understand you probably already have a dozen concerns on your mind. With deadlines, weather conditions and logistics, just to name a few. It's always a worry when you don't know what the weather will bring. We take care of that. We offer a full service that aims to take some of the load off. We help advise you to ensure your event works well, with every part of the construction taken care of.
Event Marquee Hire for Festivals and Events
Whether it's a traditional style pole marquee or a beautiful hexadome design, we have every kind of option you may need.  When it comes to summer events, the traditional marquee is often a favourite. In particular for shows, fetes and parties.
When you're looking for something more modern and eye-catching, we have a range of creative structures with angular lines that can work fantastically in a festival.
For Weddings and Elegant Events
We specialise in bespoke marquees which can create a solid, beautiful structure for your event. With a large selection of interiors, linings, furnishings and lighting, these spaces can make your wedding or event truly spectacular.
Corporate Events
We have a range of solutions that can accommodate any event size and any budget. When it comes to corporate marquee hire you can have your logo and advertising placed on your marquee. We also naturally offer a full range of other equipment necessary for an outstanding event. Including staging and lighting.
The other essentials
An often-overlooked aspect of an excellent event is high-quality toilet hire. We provide the millennium luxury trailer unit, which provides an exceptionally clean, sleek and modern appearance with warm water, timber flooring, chrome fixtures and a DVD system that allows you to display anything from brand messaging to important information. We also include servicing if your event will continue for more than a day. Each unit can service 200-250 people per day.
We Can Probably Help!
We provide more than can be written in one article. If you'd like to give us more information on your event and your needs, we'll be happy to get back to you. If you need assistance with planning your layouts we can help. Just give us a call or email.