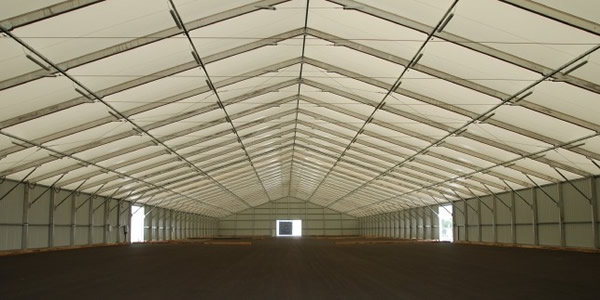 Meeting storage requirements can be a challenge with fixed structures. There are many reasons why you may need to consider additional storage options for your business. If you don't have the capacity on-site, there's a risk of lost sales. Temporary warehousing can help you avoid this by giving you additional space to store and even sell your products.

Meeting Storage Requirements
We can provide large temporary locations that are suitable for all industries, commerce or services. If you have an over-production of goods or are planning to relocate or expand,  you may need more space. Having the flexibility to work around your situation is essential.  If the supply chains have been interrupted or you're seeing increasing demand, you may benefit from a temporary warehouse facility. We have large-scale marquees which look professional and are suitable for many kinds of products and machinery. These are high-quality environments that you will gladly bring your customers into should you need to.
Meeting Storage Requirements for Seasonal Products
There is a multitude of reasons why you may need temporary storage. We have helped our clients find the best solution for their needs. Whether you're testing the viability of a new product, or you are event suppliers and need somewhere to store equipment, or you have something seasonal, a safe, clean and dry storage location can be expensive. Having your own temporary storage location gives you far more flexibility and freedom at competitive rates.
Cost-Effective Storage
The problem with fixed location storage locations is that they are often difficult to attain, have poor quality structures, and are typically far from your site, making them unfeasible for sales or operations. We can help you quickly construct a setup built to any size or shape, allowing you to build the right space for almost any purpose. We can set these up rapidly and efficiently.
To find out more about our solutions, you can contact us on 022-23318; we are happy to assess your needs and recommend the best setup given your requirements.