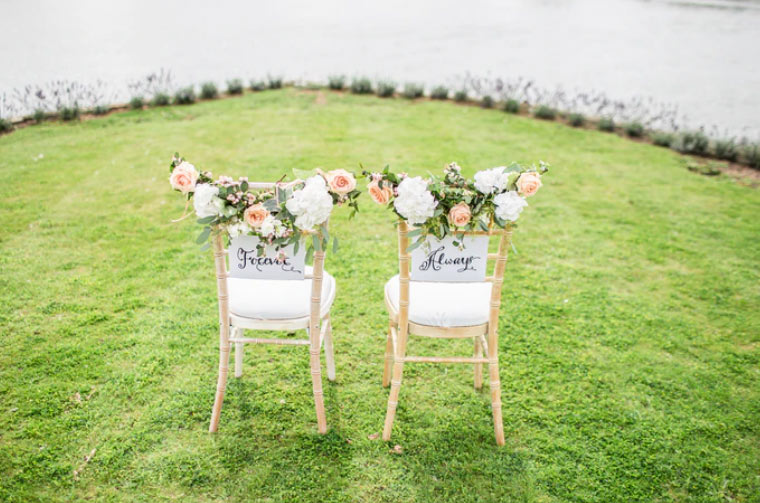 When preparing an outdoor wedding, there are a few basics that need to be covered to ensure your setup will set you up for a perfect day for you and all your guests. it's important to find the right location. While wedding marquee hire prices can vary, so can the quality of the system — and the team who are installing it. It's also essential that the space is well-suited for your needs. Given that, here are some things to consider.
Preparing an Outdoor Wedding: Location
It's so important to find the right location. Whether it's by a castle, your garden, or near the beach, the perfect wedding needs the right backdrop. Consider the site. Which way do you want the Marquee to face?  Is the ground flat or sloped?  A slope is not a deal-breaker, though you may need to use a different tent setup as not all systems are suitable for a slope. If you're unsure we can perform a site survey to assess the suitability. We can check the site to make absolutely sure that it suits your needs. We will check and advise you on accessibility, pathways and the feasibility of other elements that help create a memorable outdoor event, such as on-site toilets and power.
Ensure That Weather Can't Spoil Your Day
Considering the weather is always a necessity in Ireland, we're always at risk of wind and rain. If you want an outdoor ceremony or reception, it's often wise to at least have basic rain cover with a wet weather marquee as a backup. And depending on the time of the year you're planning to have the wedding, you may want to consider heating. This is something that's often overlooked but with a simple and rapid heater you can get clean, warm air pumped in at a controlled temperature. This can allow you to enjoy your even no matter what the weather brings.
The size of the marquee depends on the number of people you are planning to have. If it's too small it's going to feel cramped, too big and it's going to feel empty. As part of our assessment, we can advise you on the best-sized setups to give you the right mix of space and excitement.
Preparing an Outdoor Wedding: Choosing the Right Team
Make sure to hire the right company. The marquee company you choose will be creating important parts of your wedding venue from scratch. You need to ensure they will do an excellent job of setting things up properly, with thorough inspections to ensure you don't have any unpleasant surprises. If you'd like to discuss your wedding plans, you can give us a call today on 022-23318