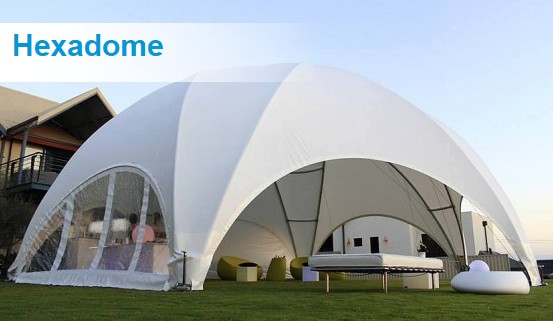 One of the chief advantages of hexadome designs in a marquee or tent is simply the beauty. These are stunning looking tents that can really add to the atmosphere of an event. We've all been to events where the tent is an eyesore. Whether you're a participant or a photographer, you may find yourself wishing the thing just wasn't there. That's not the case when you have a design that inspires. And so hexadome tents are perfect for creative events, festivals, weddings, and corporate events that aim to inspire certain emotions in their guests. But aside from their beauty, do they have any other advantages?
Advantages of Hexadome Designs
A hexadome tent gives you far more floor area. Because the walls raise more vertically compared with something more pyramidic, you have more floor space. If you are tight on ground space and expect rain, the more people you can accommodate in your shelters, the better. And so, a dome structure can allow significantly more people to take advantage of the space, with a total ground area of 100 square metres. In addition, it makes it suitable to hire as a wedding marquee.
The structure also means no internal supporters are needed.
With a tent, one of the limiting factors can be internal supports. If you have support at a key point in a traditional tent, you cannot place important fixtures such as a bar, a stage, or sound equipment. With the hexadome tent, since the support comes from the shelter itself, there is less of a need for supporting structures, which means fewer obstacles to space design, event design, and fewer hindrances to traffic flow through and around the tent. This can also be an advantage with a crossover tent.
Versatility
Our hexadome tents can be combined in many different ways, allowing for a unique appearance that can be made suitable for many different situations. Because these strong structures can hold weights of up to 600kg suspended from the frame, you can use them for all kinds of wall mounting for lighting, audio, and other considerations. With a ceiling height of 5.5 metres, these are open, spacious and invite people to truly enjoy the event with a sense of openness and freedom.
If you'd like to order a hexadome or bespoke tent, or you're looking for advice for your event, you can contact us today.